Gigchat
Creating a marketplace
for local services
---
MY ROLE
Concept
Brand Identity
UX/UI Design
What is Gigchat?
-
In a world more connected than ever, we order food, book trips, get rides, and do pretty much everything online... but finding the right local Pro is still quite a challenge.

This is how Gigchat was born: as a mobile app looking to reinvent the service marketplace by building a community that connects local customers with local Pros.


THE CHALLENGE

Creating a service marketplace that reflected a young and fresh brand through a seamless user experience.



---
PHASE 1
RESEARCH & DISCOVERY


A closer look at the market
-
Taking a closer look into the user experience, communication and marketing strategies of our direct and indirect competitors, we were able to better understand not only the common grounds and patterns between marketplace platforms but also the main pain points in user journeys and strategies.

This way we mapped out our next steps delving into the creation of personas, journeys, our brand and visual language and product development.



---
PHASE 2
VISUAL LANGUAGE


A young brand
-
The idea was to create a brand that spoke to a young generation of freelance workers, a community that's already used to buying and selling goods and services through the digital landscape.

By laying out the foundations and values of the company, we created a fresh visual language with a young spirit.






TYPOGRAPHY




BRAND PALETTE / PATTERN



BRAND APPLICATION





ICONOGRAPHY


---
PHASE 3
THE APP / PART 1


UX CHALLENGES
Creating a smooth journey
-
Based on the research and keeping in mind our users when designing, I created the first user flows. Through a process of constant iteration, the main flow started to shift in interesting ways and complex features and ideas disappeared, leaving only the most essential.







The main function of the app is to let users contact each other. Workers have profiles explaining a bit about themselves and through a search function are found by other users seeking to hire their services.

The first approach was to divide the journey into two separate paths. One for the "worker" where he had different options to manage his profile and another for the "search(er)".


Through testing and iterations we discovered that dividing the journey was unnecessary and more hazardous. We understood that by unifying both paths into one single journey, the user had a much more simpler and frictionless experience. This separated our approach from our competition and it meant a smart reduction in time, money and unnecessary difficulties for product development.


USER FLOW / Task - Set a Gig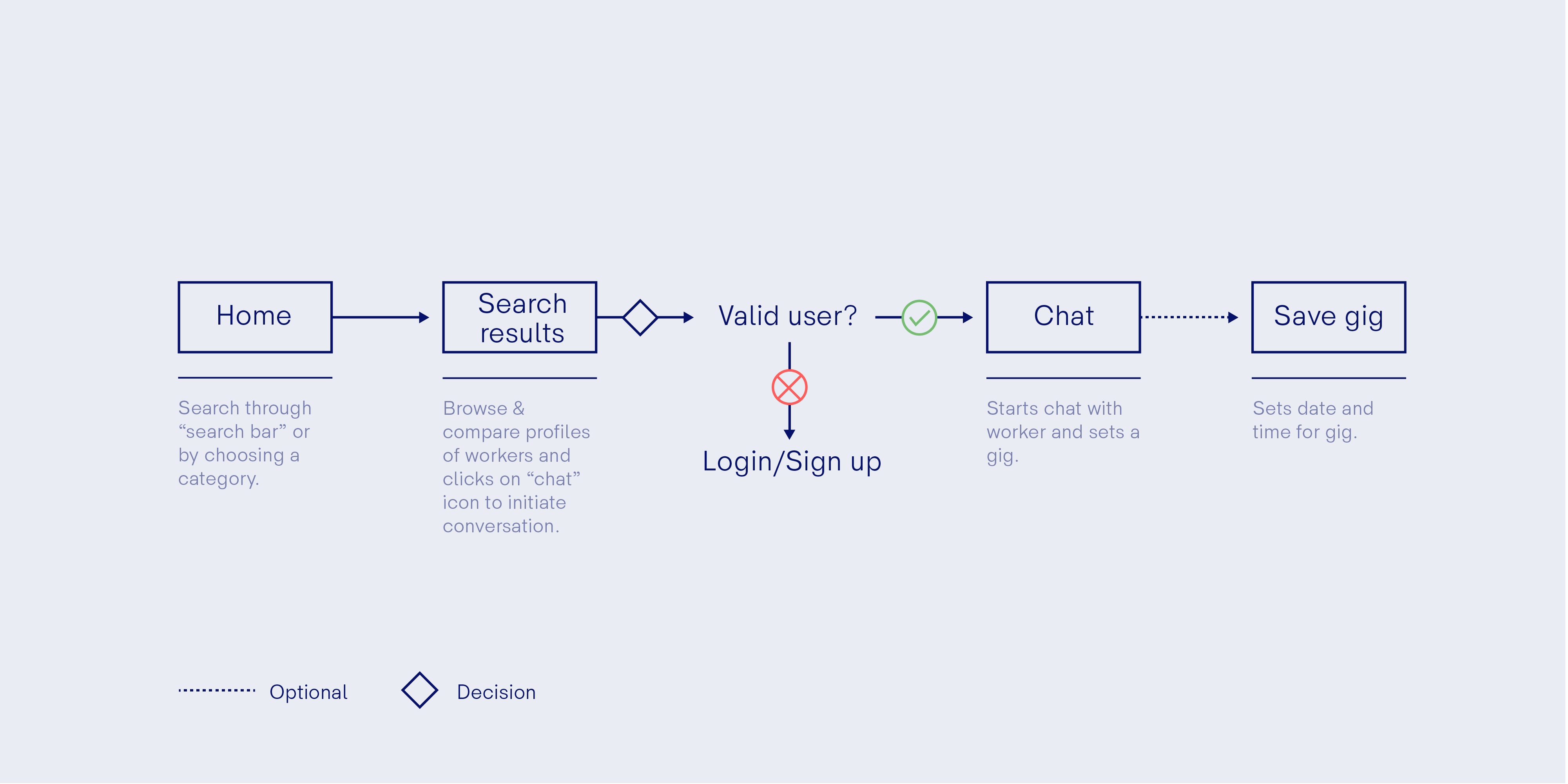 Agenda
Creating and saving gigs, gives the app an agenda functionality that would give Pros the possibility to manage all their work directly in the app. Managing clients and dates.

The user, who is hiring a Pro, gets a chance to save contacts to share them or come back to them in case of need instead of saving numbers in their phone of people they might not need to come back to continually but just on an occasional basis.
WIREFLOW - AGENDA FUNCTIONALITY
FINAL SCREENS