Whitechapel Gallery
Creating an interactive
experience for an art gallery
-
In this concept project done during my time at General Assembly, in a group of four, we were assigned a brief that was mainly focused in enhancing the experience of visitors at the Whitechapel Gallery.



The gallery

-
Whitechapel Gallery is a renowned contemporary art gallery at the heart of East London. It also has pioneering education and public events programmes.


THE CHALLENGE

Create an app that will enhance the visitors experience in the gallery by engagement and learning through their journey.


---
PHASE 1
RESEARCH & DISCOVERY


Uncovering visitors needs

-
We wanted to uncover the key motivations and frustrations that visitors experienced in art galleries and museums. This phase mainly consisted on:



USER INTERVIEWS
COMPETITIVE
ANALYSIS
CONTEXTUAL
INQURIES
We created a screener survey that we sent to different networks and communities that are interested in art. Following the survey, we got back to 10 of our respondents for a more in-depth interview.
Through an affinity map we visualized the common points that came up between the surveyed.


INSIGHTS

Brochures
57%
of visitors rely on brochures to get useful information about the gallery and specific exhibits.
Audio guides
73%
don't use audio guides. They find it antiquated and with long explanations.
App
71%
of users would be open to use an app to navigate and get further information on exhibits.
PAIN POINTS
Lack of information
Visitors felt a lack of information and context when looking at specific pieces in an exhibition.
Lack of engagement
Many users expressed they felt no connection or engagement either with a gallery or an exhibition.
Lack of clear path
Users expressed interest in having clear paths and journeys when navigation an exhibition.
By looking into different type of competitors (direct and indirect) we understood how they use apps to tackle navigation and information for visitors, as well as introduce interactive features.


We also visited the gallery to gain real insight into the feel of it, how they showcase their exhibitions and have conversations with visitors, guides and the gallery staff. This also helped us create an experience map of what a typical journey for the visitor would look like.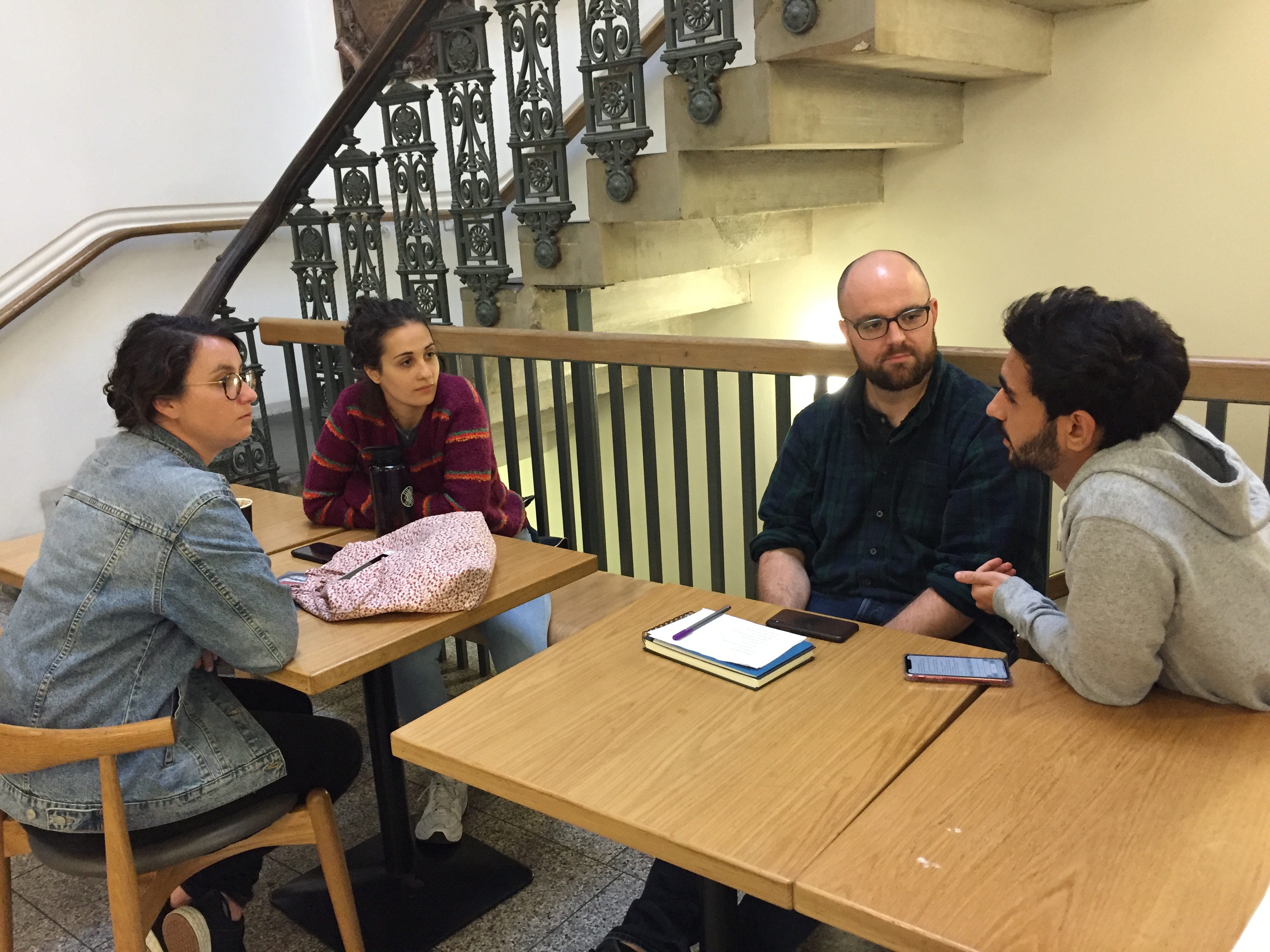 EXPERIENCE MAP


---
PHASE 2
DEFINING PROBLEM & SOLUTION
Find, inform and engage

-
From the insights gathered during our research, we found the main paint points related to navigation and learning in galleries, so we narrowed our focus into creating an app that would solve both issues for users. Before starting our design process we did the following:
CREATE A PERSONA
DEFINE PROBLEM STATEMENT



PRIORITIZE FEATURES

PROBLEM STATEMENT


FEASIBILITY MAP
---
PHASE 3
DESIGN, TEST & ITERATE


Giving life to our ideas

-
We started by creating a user flow that consisted in the user arriving to the gallery, downloading the app and discovering exhibits and specific art pieces through an interactive map of the gallery. This would solve navigation and learning for visitors by letting them discover clickable objects on a floor plan and get more information on individual pieces.


When testing this first version of the prototype and idea, we realised that the experience resulted:


Cumbersome:

users got lost in depth of functionality.
Distracting:

users were taken away from the actual physical experience of the gallery by having to stare at their screens to use the map and get interesting information about specific art pieces.
MID-FI MAP PROTOTYPE




Solution 1:
Gallery Map
We decided that instead of focusing only on the map to solve the problem, it resulted better to divide the main functionalities of the app (navigation, engagement and learning) into two features.

The map would mainly help with navigation. We simplified the map functionality to be easy and undistracting. A practical and manageable navigation tool that would highlight the rooms associated with exhibits.
To give a real sense of discovery and further learning, we designed a scanner functionality. The idea would be that certain pieces within an exhibit that have an "eye" symbol could be scanned with the camera inside the app. The scan result would be a page for that specific art piece contatining highly curated information about the object (e.g. trivia, facts, multimedia content and a saving and sharing action).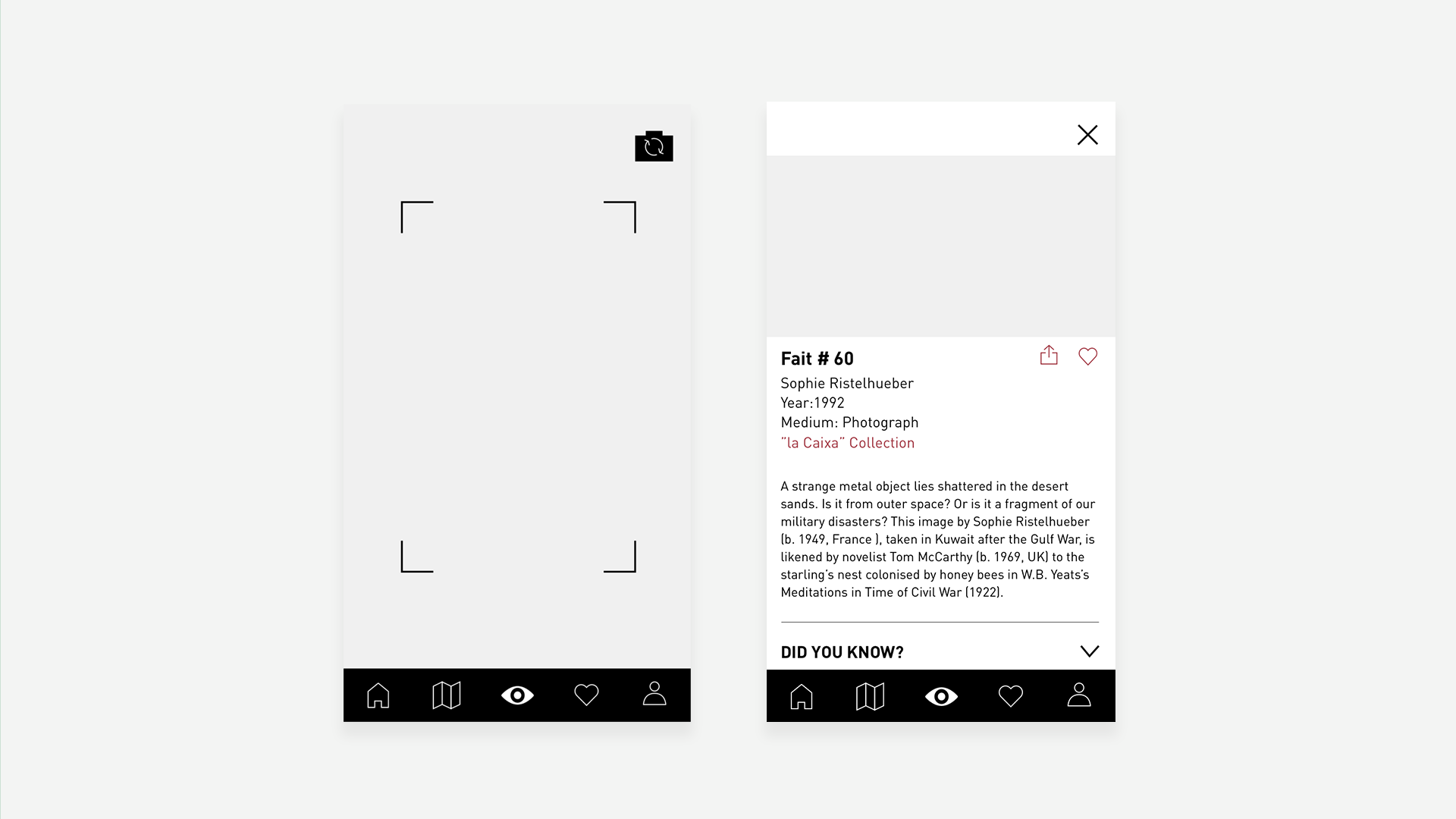 To help users understand the main functionalities of the app, we created a simple three step onboarding where
we illustrate the apps benefits through language that sets the tone and describe the functionalities that encapsulate those benefits.


---
PHASE 4
FEEBACK AND NEXT STEPS


Conclusions

-
The testing for the last version of the prototype proved to be more in tune with what users would expect to level up their experience at an art gallery. There is always room for improvement and many ideas we would've liked to test, but for a two week sprint, the process was very smooth, collaborative and we were very happy with the result.